My dog Daisy is quite possibly the sweetest dog ever to have lived. I mean besides your dog, okay? For reals. She's totally sweet and submissive, and – well, I'm out of adjectives. She's a damn dog. But yeah, she's sweet!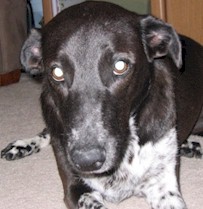 Anyway, we rescued her. And – as you guessed – the previous owner was abusive. Why is that so often the case? She has no visible scarring or anything superficial. It's all mental. Her psyche is just totalled. Like a subaru left on a train track. We've had her for a couple of months now and I've not raised my hand to her once. Even though she tries my patience like a Rubik's Revenge. And it's not because she's bad. She's not. In fact, just the opposite. But she's got driven into her head so deeply the thought that I'm going to beat her, that she won't even come to me.
When I approach her, I have to come very subtly and calmly. If I look at all threatening (which is unmistakably easy for a six-one, one-ninety dude to look to a dog) then she cowers and wets on the floor. This is maddening to me. Not that she's doing it, poor bitch, she's scared to death! It breaks my heart that she's so afraid of life. What is maddening is that some asshole in my position did this to her.
Now when we go next door to Kit's house, she gets to hang out with Dooley, his hundred-pound lab. (I think a hundred pounds is a pretty conservative estimate, by the way.) And over there, she's a different dog. Actually she is a dog over there. She's sort of just not a dog when she's at my house. She jumps and licks and wags her tail and sniffs and just loves being alive when she's around Dooley. But at home she's scared to breathe.
Over the couple of months we've had her, she's made good progress. She at least comes to me now, occasionally. But check this out: this morning I was holding out a piece of cereal for her to come grab and eat. She was too afraid to approach to get it. Have you ever heard of that? So she doesn't come to me every time. But if I'm in a non-threatening position, like lying on the couch, or sitting on the floor, she might creep up to me, tail tucked and shivery. It's really depressing. When we're out front, she's a little better, she'll come to me. But I've never seen her wag her tail while I pet her. She's too scared.
So hey, readers, if one of you out there recognizes this sweet doggy as your old pooch, (she's a Spotted Austrailian Iguanahound), then please do get in touch with me. If you were the one who made her like this, I'm just dying to meet you.