I'm always on here ranting about shitty customer service and how people suck so badly. So I figured you'd probably like to hear about a good experience I had as a customer. Wednesday afternoon, present tense.
I just got back from the barber. Actually it's a salon. I was on my way driving to the Sport Clips when I passed by a shopping center that had a little salon in it. So I said, "What the hey." I knew it probably wouldn't be as busy as Sports Clip during lunch hour, and you really can't mess my hair up. Even if you do, no one will ever know, because of the way I wear it. So the point being that I really have no preference when it comes to where I get my hair did, because I deliberately mess it up anyway, as a rule. That's how I roll.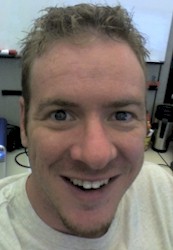 So I pulled into this salon and boy was I right. It wasn't busy. I was the only on in the place. And there was only one barber in there. Hellllooo. So I sat right down and she starts a cuttin! Anyway, to make a long story short (haha see what I did there?), she shampooed my hair, took her time with me making sure it was just right, and then shampooed it again so I wouldn't itch. And the haircut itself took like 25 minutes. She spent a lot longer than those guys down at the Sports Clips. She was very friendly, very professional and a very good stylist. I was very happy at the end of the session. It cost me ten dollars. And I tipped her ten dollars, because I was so happy with my haircut. Would you like to see a picture of it? You bet you would. You haven't seen me with hair this short since last summer!
Okay, so I know none of you are really interested in good customer service experiences. You love to rip on humanity just like I do. Because most of them suck. It should revive a little of our hope in the human race when someone goes above and beyond though, and does something a little more just to be a good fellow human. It should. Buut then I read about some dipshits killing a guy over two dollars and having no remorse. And Oop! There it goes again.
So to get us back in gear on the right track, I'll share with you a story of some shitty customer service! I don't have to search my memory banks very hard. In fact, just this morning at the McDonald's, I ordered two egg mcmuffins. Yum. You know, the standard fare with ham, egg and cheese on it? Yeah. They were both sausage when I opened them. Cock suckers.
Okay, we're all mad again. We can all sit here and be mad together, hating humanity once again.