I was working in the hangar this morning, trying to get my temporal matrix delineator running again. Something is wrong with the flux bank. It's getting ridiculously complex though, and I've downloaded every manual I can find for it. Something has burned through one of the wires on the fonga assembly, and now the stupid thing smokes whenever I engage the cryostat.
So long story short, I replaced the two bad nodes on the flux bank and rewired the cryofuse with an Atometer 4000 Barker Plug. You know, one of those platinum-plated bad boys? Yeah. No shit. It set me back about two grand. This shit ain't cheap like it used to be. Anyway, after I got those replaced, my camber light started blinking. NOW WHAT?!? Ha! Good lord, if it's not one thing it's another, right? So I removed the camber coil box, and guess what I found. Seriously. Look at this picture: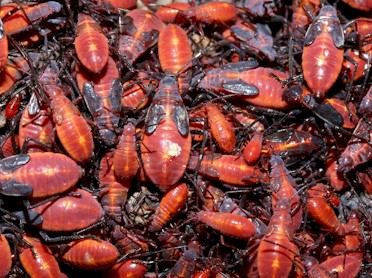 Can you believe that shit? BUGS. Thousands of them. Those are Jovian Cockroaches. I guess I picked them up on my last trip through the Europa sector last May. Anyway, it took me several hours to get them all cleaned out. And boy they stunk. And you know what else? They're poisonous as shit. Anyway, I got rid of all them bitches and cleaned up everything and put the camber coil box back in place, and BING! The light went out. Thank God. Something finally went right.
I plug in a new date, I induce the HyperTrip StarSwinger and I got an error message. It read: BAD FONGA PLUG. CHECK CRYOSTAT. ERROR 909.9.
So now I turn to you, faithful SpaceBrewers. I really need your help. Anyone know what the hell this error means? Anyone know where I can get a new cryostat for Zark's sake? I would hate to have to replace the entire fonga assembly, but shit, I guess I may have to. I'm supposed to be at a Moon Wedding on the 19th. 2144. I won't live that long just waiting it out, so I have to get my time machine working. Any ideas? Anyone? We'll use the comments section below as a forum for getting this thing fixed. Thank you in advance.
UPDATED: Click here for the conclusion of this saga!