It's hard to believe the summer is coming to a close already. Well, technically I guess it already has. Have you noticed how quickly the years fly by when you get older? It seems to me that only a couple of weeks ago, the State Fair was selling all things fried. Well it was a year ago. Which tells me I'm getting old. I saw a sign the other day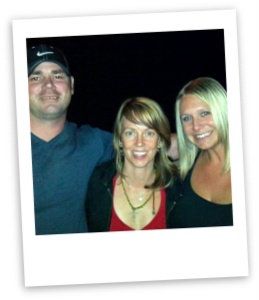 that said if you were born before September 15, 1991 you are 21 years old. I graduated from high school only a couple of years after that. This makes me feel really old.
So what better way to close out the summer and feel young again than by gathering round a stage for some live music? Yeah, you're right, there isn't a better way. When you hear Patrice Pike sing "Nothing Compares to You", it brings you back to the eighties. Just listening to music in general is good for the soul. Makes me feel young.
Patrice and friends played Poor David's Pub the other night, and of course, we were there. We took some friends and drank some PBR, sitting front row, center to the action. Got my semi-annual Patrice Hug and told her how spectacular Rufus was, and went home singing her songs in my head. Honestly, if you haven't seen Patrice play live (or heard her music) you should make that a top priority in your musical task list. She's five feet of vocal awesomeness.
I've not seen her since 2010, when I took my red-haired wife for the first time. I'm sure you remember this picture. And though it may look like I'm struggling, no, trust me, she only weighs like ninety pounds. Anyway, the last time we saw her she played with the full band. And the time before that, an acoustic set. It seems to be that she alternates between full-band and minimalistical every show. Which is nice. It's really cool to see her acoustic show, because there's an intimacy there you don't get to experience with the full band. Plus, you can really hear how marvelous her voice and playing really is.
Oh. And then – another event that marks the end of summer – there was Grapefest. Now help me get this straight. We went to Grapefest 2012. Which was in Grapevine, Texas. We were there for maybe six hours or so. And I didn't see a single grape. Isn't there supposed to be wine tasting and grape stomping and all that? Well somehow all that eluded me. I was, however, able to find the beer. So I did quite a bit of beer tasting. Every beer tent had the usual products of the Big Three Pisswater Breweries. Yawn. But one tent had Sierra Nevada Pale Ale. And Fireman's #4 Blonde. Yeah. You see me nodding my head?
I don't know what it is about festivals and wine tasting and loud music that makes women leave their bras at home, but apparently that's exactly what happens. There were so many breasts out there that were just celebrating being free, it was really a sight.
We met up with some friends out there, and they came over afterwards to hang out and have a few more beers (because we didn't get enough at the festival). While we're sitting there, the neighbors stop by. And a couple more friends come over. Next thing you know, there are about ten of us sitting on the driveway, drinking fresh SpacePort beer from
a keg. I have a large kegerator with kegs of fresh home-made beer in them in it. In case you didn't know. Cheap! So next thing you know, it starts to look like a party. And end-of-summer party. Even though I thought we'd already had one of those. Maybe this was a welcome-in-the-fall party. Either way, a lot of beer got drunk.
And that makes me feel younger too. Until the next morning, anyway.
This summer seemed shorter somehow. We didn't do as much swimming. We did a lot more laking though. On one of our pool outings, my littlest scoop got stung by a yellow jacket while going down the slide. She later said, "That jack bee stung me." There you have it, folks. The official new name for yellow jackets. And at dinner the other night, she told us that Jesus made all the jack bees, and the Lunchables. Thank you, Jesus!
Speaking of jack bees, I stopped by a yard sale the other day and bought a go-cart. It needs a little work, but it will be a fun project for my son and me. When I lifted it up to have a look at the bottom of it, I was startled by the very large nest hanging there, crawling with jack bees. My first instinct was to slap the nest, to prevent them from stinging my face. Mission accomplished. I smashed about twelve jack bees against the bottom of the go-cart, and indeed, kept them from stinging my face. My hand, however…
So what are we going to do this fall? The weather has been beautiful, hasn't it? The other morning we sat in our sun room with the windows open and a cool breeze blowing in. Reading. Drinking coffee. It's mornings like that when I wish we had fall all the time. When I think fall, I think dove hunting, Cold Beer standing around a Weber, cabin camping and leather boots. Bring it on, I say. We had a great summer. And usually do. But this one was particularly attractive. I hope yours was too. Good summers can make you feel young.