Part Five: Dancing in the Streets
When you think of vacation spots, you probably don't very frequently list Panama City as one of your choices. It seems – to me, at least – to be one of those spots like the Roman Coliseum. It's beautiful, and you'd love to see it, but you're not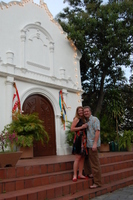 going to lie out and catch some rays on the theater floor. These seem more like educational spots. Culturally rich locations where you go with a history team, or a college class for a field trip. And certainly if you're staying at Playa Bonita on Diesel Beach, it's not a great place to catch some sun. The pools are fine for it. Amy ("I'm not getting any sun! I need to wash this crap off my back!") burned like an unconscious lobster left on a grill. While the fire was lit. On high. And people threw cigarette butts at it. While laughing. Even my red-haired wife caught a little too much sun, and when her skin started peeling it really made a picture of her new Embera Ink tattoos.
But a large part of me is glad we didn't get to choose the vacation spot for our getaway. Panama is literally the last place on the planet I would have chosen. Ireland? Turkey? Germany? Canada? Kansas? These are all places that sound reasonably like good tourist spots for a nice week away from work. But the company chose for us. As they do every year on their Presidents' Club vacation. And this unlikely spot made for a fantastic, and life-changing experience I won't soon forget. Yes, even I – with my terrible memory – am not likely to forget this one.
We made reservations to eat at a couple of the hotel restaurants with James and his wife Kristine, but ended up having to back out of both of them due to getting back too late from tours or other events. And though I was very picky and careful about what I ate given my food allergies, I was really excited about these reservations. Well, I'm sure there are a thousand and two things we missed out on or didn't get to attend that we never even thought about. Which is why we need to go back.
Clearly. But there was great food. I had things for breakfast I would never imagine I could stomach that early. For instance, one morning I was surprised to find there were no eggs, bacon and pancakes available. I instead had fresh, thinly sliced raw Pacific salmon on a bed of hash brown, covered with finely diced white onion. The next four mornings of my trip, I sought out that same dish with fervent elation.
And then there was the Awards Dinner. This was one of the highlights of the trip for me. I've mentioned how great our company is at rewarding its employees, and how they spare no expense. Well I'm not even sure how they pulled this off. An entire city square closed off. Vendors setup in the little shops surrounding a street filled with tables.
We were able to shop for souvenirs, paintings, artwork and clothing in total safety while drinks were served all around against a background of soft music. And after dinner was served (yes, we ate at tables set in the middle of an old-town Panamanian street), the music got loud and they started dancing. Panamanians came out in full dress doing the salsa and hollering, large smiles adorning their beautiful faces, getting everyone ready for an evening of just pure let-it-go-ness. And we did. We let it all go.
It's not very often that my red-haired wife and I get a chance to get out and dance, but on this night we made up for it. We kicked off our shoes and danced in the streets with a hundred other company people and Panama local folk. We did the line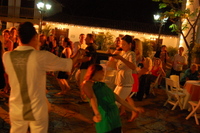 dances, we did the limbo… we even circled up and took turns doing a jig across the middle. Yes. I did the caterpillar. What can I say? Third grade, first place in the break-dancing contest… That's as cool as I ever got.
By the end of the night, our feet were black, our shirts were soaked and our faces were tired from smiling and laughing so much. No one was too good for the fun. I danced right alongside our C.E.O. and his wife. Stephanie's boss and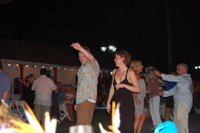 his wife were right there with us. Dan, in fact, was the instigator to the Great Electric Slide Competition of Panama 2013. (Even though the DJ managed to play the wrong song entirely.) It was a perfect night to wrap up an unequivocally awesome vacation. And I don't think I've ever been able to say I actually danced in the street. At least not with other people.But like the old Van Halen song said, "there'll be swingin', swayin', records playin' – dancin' in the street". And there was.
We owe a big thank you to the executive staff who funded this trip, and to Pat and Christine for organizing everything for us. They worked to make sure all our tours went according to plan, and just kept everything flowing smoothly. Great job, ladies.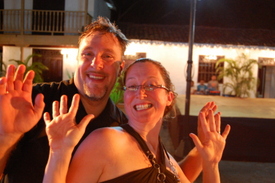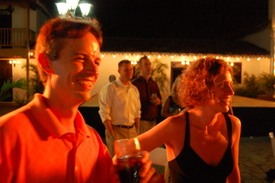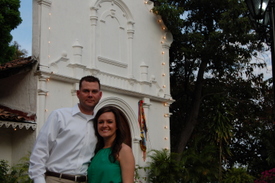 As the music fades into ringing in our ears, our ears popping with the loss of altitude as our plane touches down back home, we sigh, we grab our bags, we head home. We eat, we drink, we look at each other. But we look at each other a little bit differently now. We now share something even the most eloquent diction can't describe. This was not just a vacation. This was a life experience. This wasn't a week on a white-sanded Florida beach. This was an adventure. A learning, soul-cleansing, touching page in our own personal histories. Maybe next year in Cabo it won't be as intimate. Or maybe it will be more-so, now that we've experienced this together. From our first dinner – watching turtles eat the bread we dropped into the water below – to the last one, watching the sun set over the city from the inside – we all experienced a sort of bonding that rarely happens at home. Step and I had the fortunate opportunity to spend time with a different group of friends just about every day. We spent the evenings recounting the days with the same group, but it was great getting to be a part of so many different groups during the days.
I'm sure I speak for most of the group when I say I can't wait until next year. I ring it off in my head like a wedding vow. Be the country better or worse, richer or poorer… it will be incredible no matter what. And if we get to share the experience with the great people we got to know this year – and even some new ones – then I can't imagine coming home with any complaints.
I'm now lying down in my familiar bed upon my own mattress. I'm about to click off the lamp and re-adjust to the sounds of my own home. The sonic comforts of my air conditioner and the familiar creak of the stairs as my children ascend to bed remind me I made it. That I'm safe. The sound of the fan eases my mind. I think I'll sleep well tonight, back home. But in my dreams, I know I'll still hear the sounds of the rainforest.