You can fly into Bangor and drive the hour into Bar Harbor, which is what we should have done. Don't get me wrong, the drive up was absolutely gorgeous. We counted more trees per square yard than we could even believe actually existed. But a five-hour drive is pretty taxing when you've gotten up at 0400 to be at the Dallas / Fort Worth International Airport by 0625. Yeah. They don't even serve bloody marys that early.
So flying into Bangor will save you the five-hour drive, but costs you a couple of Franklins. Well, next time I think we may do that. We, instead, flew into Boston / Logan and drove up. Now that was a really nice drive through all those bay towns, including Portland. We plan to spend a day in Portland Monday, actually. We've decided to knock off out of Bar Harbor a day early to cut the trip in half so we're not rushed on the day we fly out.
My red-haired wife and I scored some airline tickets by agreeing to be bumped on our way back from Panama in February. Yeah, we had to stop off in Costa Rica for a few hours, dudes. Damn, that sucked.
So that got us a thousand bucks of travel vouchers. I asked my wife where she wanted to go for her birthday this year, and said, pick somewhere you'd never think to go. Maine. Boom. Done. Here we are.
Apparently Bar Harbor's population perpetually is only about five thousand. And everything shuts down during the winter. The bars, the restaurants, everything. But in the summer, the population sees somewhere in the millions. It's a heavy tourist area. Of course, we don't fall for all that shopping crap. They only catch us like one day out of every four that we go somewhere. And my red-haired wife only spends a couple of grand on souvenirs and other shit we don't need. Hey. It's the cost of doing business, I guess. I don't complain.
We got here on Step's birthday proppa, which is the 24th, for those who want to send cards or cash. And the bars had all just opened back up that day. So they're not too packed, but they're pleasantly busy. Every night so far we've met several couples and spent several hours with them drinking cold pints and eating lobster rolls and pretzels. What the hell is a lobster roll, you ask? Dude. Seriously. Come to Maine. Eat one. Dayum.
I would advise, however, avoiding the Lompoc on Main Street. We watched this cute little hipster buzz around the bar for an hour or so, filling drinks, dropping olives, stirring ice in, popping tops, sliding shots, just like a machine. We were way impressed with the energy level. It was insane. She must have been on some energy-enhancing drug. Cuz they were BIZZY. Then when she finally got a little break, she ran around the pub collecting all the tumblers and shot glasses, whereupon, she dunked them three quick times in one sink, once in another, then set them upside-down to dry on a drying rack. Bauup. Wait. What? I stared back and forth between her and my pint for a minute before pushing back my bar stool and excusing myself from the premises forever more.
We're staying at the Bar Harbor Inn, which used to formally be known as the Reading Room, established in 1877. Really cool history here. Good breakfast. Free rental umbrellas. Yeah, it's been raining constantly since we set foot in Bar Harbor. But you know what? That hasn't really put a damper on our program. Honestly. Partly because it's not a torrential downpour. It's more of a light drizzle to a light rain. We're walking around all these shops, stopping into every Irish Pub we see, having another cold pint. And there are Breweries all over the place here. At eleven this morning, we were tasting beers.
It was actually one of those moments in my life where I stop in my tracks and just stare at my insanely hot wife, thinking, dude, seriously? How did I get so lucky. Yeah, see, we had just gotten out of the brewery tasting thing, stopped by a store or two to get the kids something, and then we happen upon this little place called Leary's Landing, an Irish Pub, and she says, "Ooh honey, we have to go in here and have something."
Let's break that down. She stopped. She said,ooh honey, we have to go in there. And have something. She said that. My wife. Not me, dragging her in there. It was her idea. So after some minor arm-twisting, I agreed to go in and see what it was about. We had a couple of Irish Stouts and porters in there and toasted her Pop. That place had soul.
Everywhere we've stopped (about every two-to-three hours, we're stopping somewhere new) has been so full of soul. And we've probably tried twenty unique beers since we got here about twenty-two hours ago. Awesome. We're drinking all this local brew, just hanging out with other travelers and living it up.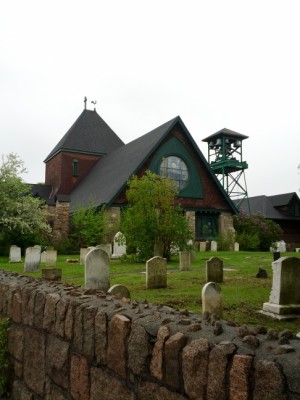 Today we stopped by a beautiful old Catholic church and walked through the cemetery. It was full of Civil War heroes. Literally, there wasn't a stone in the park younger than a hundred and fifty years. It was touching. It's actually right next door to a Church of Christ too, where we will be attending service in the morning. Gotta keep it real, you know.
Tomorrow we'll go on a couple of more brewery tours, then wrap up our shopping, then spend one more night in the Inn. Monday morning, we'll head to Portland, where we'll check out as many more breweries as we can, then pack up and head out Tuesday. I'll write more if anything interesting happens. We're going to the Dog and Pony tonight to meet some friends and do some more drinking. So I'm guessing there will be a lot more to write. Stay tuned, friends.