While in Houston, Shift and I were waiting on our friend Khris (I think that's how she spells it) as she tried on suits in Macy's. We were in Macy's too, you see. We were waiting on a woman. And there's a Sunglass Hut right there inside the Macy's. So, being bored, we decided we'd shop shades a little bit.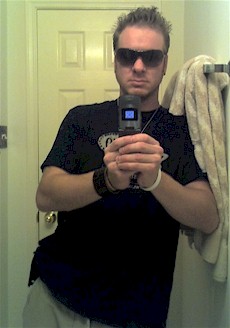 My eyes almost immediately went to the ridiculously large Paris Hilton shades on the top shelf of the case. They were men's shades, but just huge. Like something that would have made Eric Estrada proud back in his Chips days. Seriously, they were that big. Well, you know me, I had to try them on. So the lady got them out and I put them on, and magic was made, y'all.
I've never considered myself a big shades kind of guy – I mean, I think it takes a certain kind of person to pull them off. But I thought they looked pretty rad on me. Like I had a little style and class. Weird, huh? But the lady behind the counter told me she loved them on me. I know, she's trying to sell them to me. But she said there were plenty of others she'd like to try to sell me, but that trying them on wasn't even necessary. Whatever. Anyway, the point is, I like them, so I got them. So tell me what you think of them, dear readers.
I look just like Paris Hilton now. Now I just need a big purse and a little doggy. So here's a couple of shots from the Houston trip. The first one is Khris and me in Shift's Tahoe, heading to the bar to watch the game. The second is Shift and me at the Houston game, deliberately separated so we could get the hot chick in the frame from behind us. She had pretty good arthritis.