So when I heard the news that Brett Farve was finally retiring, I sighed and shook my head, then went to sit on the sofa with a beer. As I was in motion dropping into sitting position, a news flash came on saying he had changed his mind. Again. Now I don't actually have television service of any kind, and the radio was not on. But a news flash surely did happen, and – well, I just knew he wasn't really retiring. And now I'm kind of getting a little tired of his Barbra Streisand-like retirement hoopla. Dude, I don't care how many times you "retire", you're only getting one party.
Seriously, how many times can one really 'retire' anyway? Take the Eagles, for instance. When Don Henley said, "We'll get back together when hell freezes over…" everyone believed him. But does anyone believe you can get a snowcone in hell right now? From what I hear they're touring again, and they've even got a new quarterback. Wait. Not that the Eagles. It's like the 'in' thing to do right now is to retire, take a few months off, and come back acting like it's a whole new gig. Sorry though, Poison. No one wants to hear your new stuff. They only want to hear Unskinny Bop and Talk Dirty to Me.
So I gave Brett Farve a call to ask him what the hell he thinks he's doing. He just kept saying, "Well, Space, I'm Brett Farve, and that's really all there is to it. Brett Farve!" I also did ask him the uncomfortable question about his last name. I said, dude, you do realize that someone in your family, way up the line, just misread it, right? There's no way in the English language, that you'll find a law that allows the pronunciation 'Farve' when it's spelled like 'Favre'. Dude. Your last name is Favor. He said, "No, dude, it's Farve – trust me." So I said, Fine, Brett. I'll spell it like that then.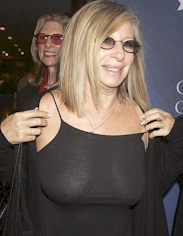 And how many times has Barbra Streisand retired now? I think at some point, people just got tired of counting and just kind of let it go. "Oh yeah, she's having a retirement show at the Starplex this Friday. I think she's playing a different setlist than she did at the last fifteen of them though." I'm so tired of her stupid ass anyway though, I can't even stand her anymore. I never could stand her anyway. But now I think we're covered pretty well. I mean, that was her job was to sing. And she knows job! (I will say, though, she apparently has some nice jugs, so I mean – I guess I gotta give her some credit…)
And even my boy Stephen King, you know, the writer? He retired about seven years ago. So now he's got nothing but free time to sit around and write books. Seriously. That's what he's been doing ever since he retired. Must be nice. Dude makes over fifty million dollars a year. I sure wish I had his retirement.
My dad retired at the age of fifty-five or so, and took it easy for a while. Then he got bored and decided to drive a school bus for a while. Then he sold cars for a while. None of these things were what he did for a living, you see. He used to be the national sales manager for a record distribution company. Want some free CDs? Hell yeah. It was awesome. So he was just killing time. That's different than retiring multiple times. I'm just tired of hearing about people pulling this shit just to make publicity.
So in the spirit of retirements and whatnot, I've decided to throw a retirement party this Saturday. Yes, folks, I'm finally ready to retire from writing. Hang up the old pool cue and pull my hat down over my eyes. Yep. Time for the old gunfighter to walk off into the sunset.
I'll still have a column for you Monday. We'll just see how this retirement thing feels for a day or two this weekend.