It's weird – I never thought it would happen to me. I am so defensive and cautious and alert, and even what one might call 'super-ambulatory'. But none of that matters. I even saw it coming. He was turning left, but looking right as he pulled onto Lemmon heading Northwest. I noticed he was turning wide, into the center lane, obviously swerving wide to avoid me. But then at the last second, he changed course and started aiming for the inside lane, right where I was.
People have these theories that if ever a car bears down on them, they'll jump in the air, do a fancy football juke, or a double-back-flip over the car. Well I just thought I'd be able to dash out of the way real fast. Well, as it turns out, time isn't very elastic, and it just marches forward, second for second. And by the time I realized he wasn't seeing me, I was out of options. So I turned and faced the truck. A Tahoe, it was. A white one with a black driver. And faster than lightning, he hit me.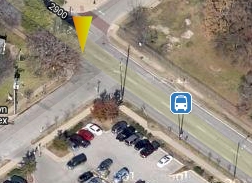 I think Mr. Tahoe might have been traveling between three and four miles per hour when he hit me. Clearly not as bad as it could have been. But once it happens to you, you realize very quickly that it doesn't much matter. It still hurts like a son of a bitch. The only thing that kept me from being knocked down was the fact that I fell upon his hood, and when he stopped, I kind of slid off, feet back, and able to catch my balance. The real danger, at that point, was the traffic coming quickly up behind him. I'm glad he wasn't hit from behind.
As I slid off the hood and stumbled backward a few steps, I had the presence of mind to get out from in front of the truck, seeing the traffic approaching. And the driver, being the nice man that he was, rolled his window down halfway to say, "Sorry, I was watching traffic." He didn't ask how I was, if I was okay, or if I needed help. Then he rolled it up and drove away. Truth be told, at this point I wasn't thinking very clearly, and I may have made motions that precipitated his leaving. In short, maybe I let him drive away. Perhaps I should have gotten his insurance information and name and address. In case I develop complications.
I don't foresee that though. My knee is pretty banged-up from his bumper, and my wrists and elbows are burning. The shock of having them pushed back behind me with that much force was pretty extensive. It was pretty sobering, realizing it doesn't take much speed to end it all for someone. And certainly, if he would have kept going, it would have ended badly for me. I remember fleeting little snippets of thought racing through my mind once he hit me – wondering how long it would last; how bad would I be injured? when would he stop? Would I fall down? The fear of seeing it all fall into a brief and startling slice of reality right in front of my eyes will never leave me. It all came crashing down so fast.
I'm really fortunate not to have sustained any serious injuries. Thank God it happened the way it did. I can live with these bruises for a couple of weeks. But I definitely learned not to trust that people see me. I'll never assume that again.