Beer of the what? Seriously? Beer of the Month Club? How have I not heard of this before now? Actually maybe I had but I didn't know what it meant. Or maybe I thought you had to go to a bar to get them. Either way, what I do know is that my ridiculously awesome and hot red-haired wife joined the Beer of the Month Club in my name for Father's Day. Now there's a wife who cares!
The idea of this is extremely attractive to me. So if you haven't heard of it, you get your red-haired wife to join you up, and she can pick monthly, bi-monthly or quarterly delivery. It's pretty expensive. If you sign up for monthly for a year, it's upwards of $450 bucks. It ain't cheap. But you can find coupons and save yourself a little cash on shipping and whatnot. So then they just pick two microbreweries per month and send you two varieties (three bottles) from each, for a total of four unique beers that you have probably never heard of. What's not to love?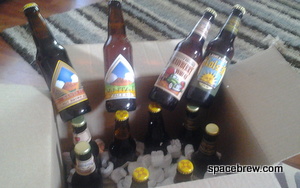 This month I got a pale ale, a nut brown, a kolsch, and a strawberry wheat. I'm not typically interested in the latter two, but since there's three bottles of each, my red-haired wife can help me enjoy some too. I set out some time ago on a mission to try every distinct beer I can possibly try. And I recently hit the Master Badge on Untappd, which is 200 unique beers. But here's the thing: since I brew my own beer, I usually find myself drinking my own beer and sort of get lazy about getting out and finding new beers.
When we travel though, my red-haired wife and I have a pact. Well, two pacts. Number one, we never eat chain restaurants. And number two, we drink as many new craft beers as we can find. Meaning we don't stick to some domestic familiar. And we have been traveling a lot lately. Anyway, the point is that this Club is going to help greatly with the trying new beers thing. That's at least four new ones per month. If my math is correct, that's almost 50 unique beers a year without ever even having to leave my house!
I'm so damned excited about this that I had to come on here and write about it, telling you to sign up and try it – before I ever even popped open my first beer! See, I have to let it chill first. But tonight, friends, I'll be cracking some fresh bottles open.
There are a couple of things to keep in mind about it. Number one, it's shipped directly to you in a big box during the last ten days of the month. So cancellations and changes have to happen before the tenth of the month, or they won't go into effect until the next month. And secondly, you have to sign for it. Meaning an adult has to be home to sign for it when it comes. That can present some difficulty in scheduling. But other than that – and those seem like small obstacles to me – this sounds to me like something I can really get into.